In Memory
Wes Brooks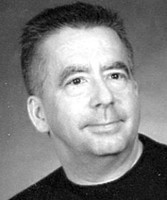 Wesley Lyle Brooks Nov. 1, 1953 - May 2, 2014 Wesley Lyle Brooks, 60, of Winston-Salem, passed away Friday, May 2, 2014 following a brief illness. Wesley (Wes to his friends), was born November 1, 1953 in Winston-Salem to Pleasant Asbury and Betty Fulp Brooks Jr. Wesley was a loving husband and father. He was the oldest of three children and an adored big brother and son. Wesley graduated from RJ Reynolds High School in 1972. At Reynolds and at Mt. Tabor High School, he was an outstanding member of the track and cross-country team. Wesley was a 1976 graduate of Appalachian State University with a BSBA degree, concentrating in Finance. Wesley met his wife, Debbie, at ASU. Wesley was self-employed as an accountant and a financial planner. In addition to his parents, he was preceded in death by his brother-in-law, Mark Toomey and his sister-in-law, Sandi Brooks. He is survived by his wife of 36 years, Deborah Frazier Brooks, his son Kenneth Brooks of Winston-Salem and daughter, Elizabeth Brooks of Raleigh. In addition, his sister, Cathy Brooks Toomey of Winston-Salem, his brother, Barry Brooks of Kernersville and his many nieces and nephews. Donations may be made in Wesley's memory to the American Heart Association. Online condolences may be made at www.hayworth-miller.com.
Wes' wife, Debbie, graciously added the following:
Wes' death was unexpected. Wes had a heart attack April 13th, 2014. He was in the hospital for a week. The damage to his heart from the heart attack caused him to be in heart failure. He was at home recovering and looked to be making a full recovery. On Friday, May 2nd, he went to take a nap and passed away in his sleep.

Inline Image Not Displayed